Story Activities for Dragons Love Tacos
By Adam Rubin
Planning a fabulous party for a drove of dragons? Or maybe you just want a fun story to read? Here are some story activities to use with the story, "Dragons Love Tacos" by Adam Rubin.
Story Vocabulary
Here are some words in the story. Review a couple prior to reading. Display on a word wall for writing. Or students can hunt for the words in the story. (Picture cards by Britta Abood)
Comprehension
Pair visuals with comprehension questions as you read or following the story. Here are some question cards created by Laura Ouimette.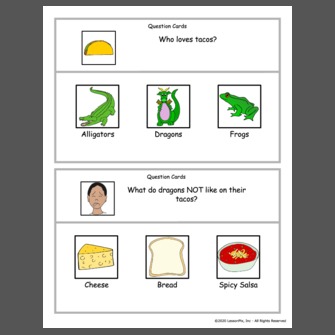 Here are simpler Yes / No question cards. Use to spark discussion on the topic or look for evidence in the book.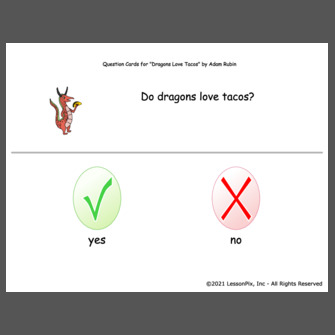 Opposites
This book illustrates many opposites: gigantic / baby; chunky / smooth; spicy / mild; etc. Discuss opposites and find examples in the book.
Match these opposite cards. (by Kandy Schroeder)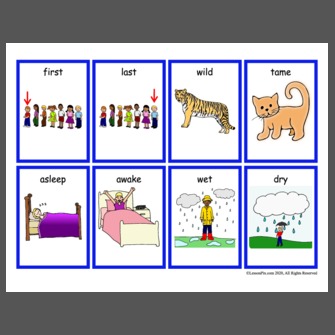 Match the opposites (by Brenda Jenkins)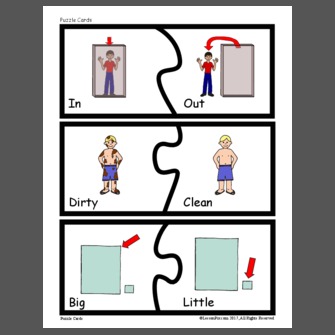 Use stickers to choose the best opposite. (by Chandra Henry)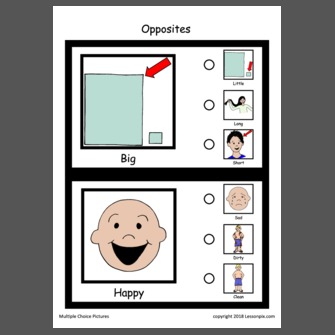 Making Tacos
Recall the ingredients in making a taco. (Made by Heather Heady)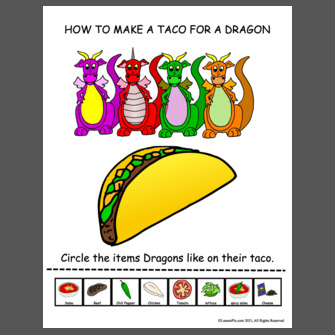 Ask students what they would like in thie taco. Have students make and eat their own tacos.
Visual Perceptual
Find the taco ingredients.
Writing
Trace the lines to bring the dragon to the taco.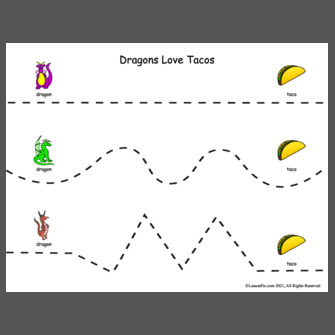 Tell about your taco party or describe your favorite taco to eat.
Art
Cut out a large circle on yellow construction paper. Also cut out construction paper ingredients for a taco. (Orange shreds + cheese; green shreds = lettuce; brown strips = meat; red circles = tomatos; red string or glue = salsa).
With a small group, students take turns spinning the spinner or rolling the die to see what they add to their taco. If they land on spicy pepper - they skip their turn.
With an individual, student will spin the spinner or roll the die and add ingredients until they land on the spicy pepper. (Then they can start a new taco!)
Board Games
Play a board game using vocabulary from the story. (Created by Jennifer and Rachel Gips)
Taco Themed Center Activities
Laminate and play with these taco-themed activities.
Have fun learning and playing together!