Position Pete
Position Pete is one character who teaches positional words. He can be found on over, in, out, or through a box. It's fun and easy to play with prepositions using Pete in cards games, obstacles courses, Bingo, or Simon Says. You can find Pete's pictures here.
Here are a few preposition activity ideas from our members in the Sharing Center.
1.Picture Cards: This is a free set of picture cards. Talk about the positions as you look at each card.
"Look at Pete. He is above the box. He is up."
"Let's look above us. What do you see above you?"
"Can you put Pete above our heads? Above the pencil? "Above the clock?"
Then you can use these cards as visual cues while reading or writing stories or play games.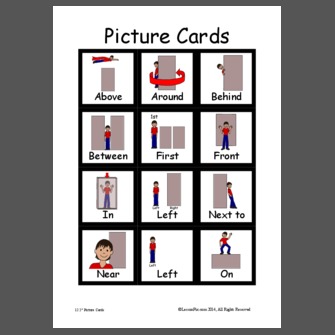 2. Puzzle Cards: Ask "where is Pete?" and talk about prepositions as you match the same positions using these puzzle cards.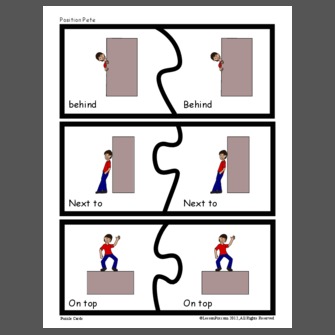 3. Playing Cards: Here are playing cards with Pete. There are 26 different cards in 4 colors, allowing you to use these cards in many different games: Old Maid, Uno, Go Fish, etc. Have fun!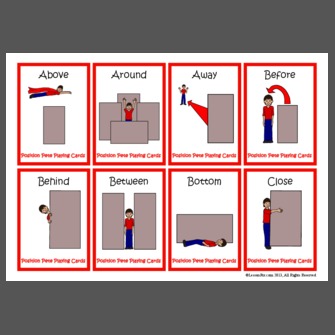 4. Where's Pete: This is a great example of a book that teaches one word: "on". You may also create othe similar books using the symbol builder.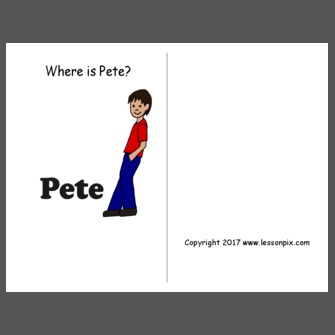 5. Game Board: Play this "Chutes & Ladders"- style game with dice or a spinner. As you play, focus questioning on "where...".