SL3 Category Game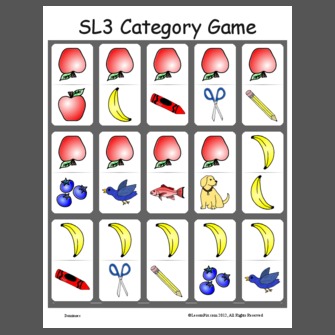 Download PDF
Other Download Formats Beta!
Each page of your material is set as a background image on a PowerPoint slide. This allows you to draw on the page as well as move objects onto the page. Great for Telepractice!
Same as above, but with some of our most common token symbols. Keep the ones you want and delete the rest to make an interactive game for remote play.
Each page of your material is placed on a separate slide as a moveable picture. Rearrange and resize as you see fit.
Note: All PowerPoint formats are tested with Google Slides
Load these pictures into your tray to recreate and customize this material.
This material was created by Jennifer Preschern, MA CCC-SLP, MA Learning Disabilities from Speech Language Literacy Lab (SL3).
After completing the Kindergarten Language Benchmark Assessment(KLBA), a research-backed 4 minute 3x year RTI language screening tool, this Category Game can be used for Tier 2 or Tier 3 intervention for categorization or vocabulary goals.
Some ideas how to use this resource:
1. Cut apart all the pictures and ask students to sort by category. Then, re-sort the cards by function, location, and/or attribute(i.e. color).
2. Provide students one domino at a time and ask how the items are the same (or not).
3. Play Dominos: Students have to connect pictures and describe how they are the same.
More information on the KLBA and access to other free Tx ideas can be found at: www.sl3lab.com