Memorial Day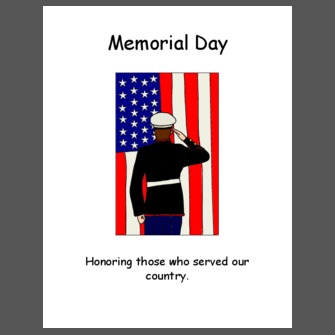 Download PDF
Other Download Formats
Each page of your material is set as a background image on a PowerPoint slide. This allows you to draw on the page as well as move objects onto the page. Great for Telepractice!
Same as above, but with some of our most common token symbols. Keep the ones you want and delete the rest to make an interactive game for remote play.
Each page of your material is placed on a separate slide as a moveable picture. Rearrange and resize as you see fit.
Note: All PowerPoint formats are tested with Google Slides
17 Pictures Used Load All
Load these pictures into your tray to recreate and customize this material.
This is a book explaining Memorial Day.   It attempts to explain to children that Memorial Day is when Americans honor those who have died in the service of our country.
I've made it "full page" to be flexible.  If you'd like it as a booklet follow these instructions from Adobe Acrobat.
You can find a matching Coloring Book (also free) here.
The text is below.
Memorial Day
Honoring those who served our country.
Memorial Day is when Americans remember those who have died while fighting for our country.
These people were in our military. When our country asked them to protect us, they were brave enough to go and fight.
They might have been a Soldier in the Army or a Marine.
Or a Sailor who was in the Navy and fought on a boat or in a submarine.
Or an Airman who flew or worked on planes.
Even though we sometimes say Airman or Serviceman, many men AND women have fought for America
Sometimes they get badly hurt while at war.
Sometimes they are killed while fighting for our country.
Memorial Day is more than a day with no school. It is a time to remember those who have died to protect our country.
Many places have parades and even fireworks on Memorial Day.
It's a great time to enjoy the day with your family and have fun.
But some people will be sad because a loved one has died.
We should help them by showing that we love them and care about them.
Be sure to say "Thank You for your service" to people you see in uniform.
And remember that we are Free today because they served our country.