Writing Pages
Writing pages are used with students for their writing journal, a writing center, displayed writing work, or portfolio assessment sample. They can be used in the classroom, for homework, therapy sessions, camps, and in homeschooling. Writing and Drawing pages can be create to have lines and/or box for a drawing area. Images can be placed on the writing page to prompt a writer, indicate a topic, or decorate for the holidays / themes.
Lessonpix provides several templates for writing pages: (Click on each picture for a free sample in pdf format)
Each of these writing page templates is available with 1, 2, or 3 pictures.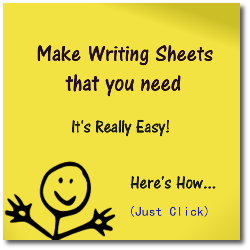 1 picture may just decorate the page with a theme or holiday.
2 pictures on a page may show first / then, two characters, or a character and event.
3 pictures on a page may give the writer prompts of character, setting, and/or plot.
These writing pages are great for teachers in early childhood, therapy, and homeschooling.
Here is another free sample of a fall drawing page. It may be used following a nature walk or lesson about fall leaves.