In The Ocean
Thematic units use curriculum resources related to a specific topic. When teaching a thematic using, students and teachers show an increased level of engagement. Concepts are taught within a context, helping students apply and retain new information. Within the theme, students may delve deeper, make connections, and draw generalizations about larger concepts (ie: patterns, cycles, relationships, etc.). Themes, by nature, promote scaffolding and multi-modalities as students explore and make meaning.
The ocean theme is a motiavting theme that touches all ages from nurseries to university scientists. LessonPix helps provide age appropriate resources related to ocean targeted for specific objectives.
K-W-L
K-W-L is a graphic orgnaizer/ chart to show information related to a topic before, during and at the end of the unit. As we begin our ocean unit, ask students what they K- know about the ocean. Then think and discuss about W- what they would like to know. This chart is a working chart throughout the unit and questions may be added along the way.
Unit Vocabulary
Who Lives in the Ocean? Think about the diverse life within our ocean.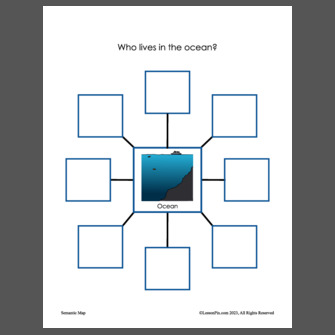 Identify Various Ocean Animal
Play a bingo game to identify ocean animals and/or their characteristics.
This story, "Who Live in the Ocean", labels ocean animals.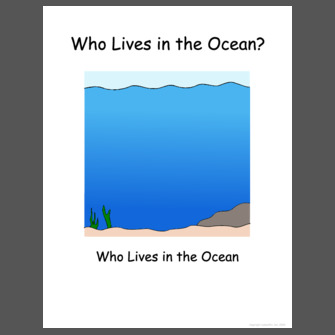 Create word wall words as reference vocabulary for reading, writing, and understanding.
Matching Same and Different
Matching skills reinforce unit vocabulary and promote visual discrimination and sorting skills.
Play a memory matching game
Label and Describe the Ocean Animal
Ocean Facts
Play games or create visuals to help teach fun ocean facts.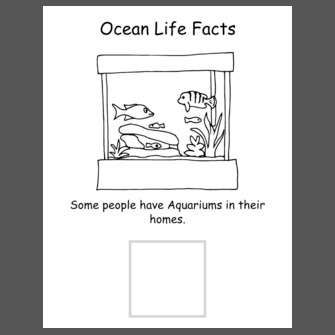 Stories and Songs with Ocean Theme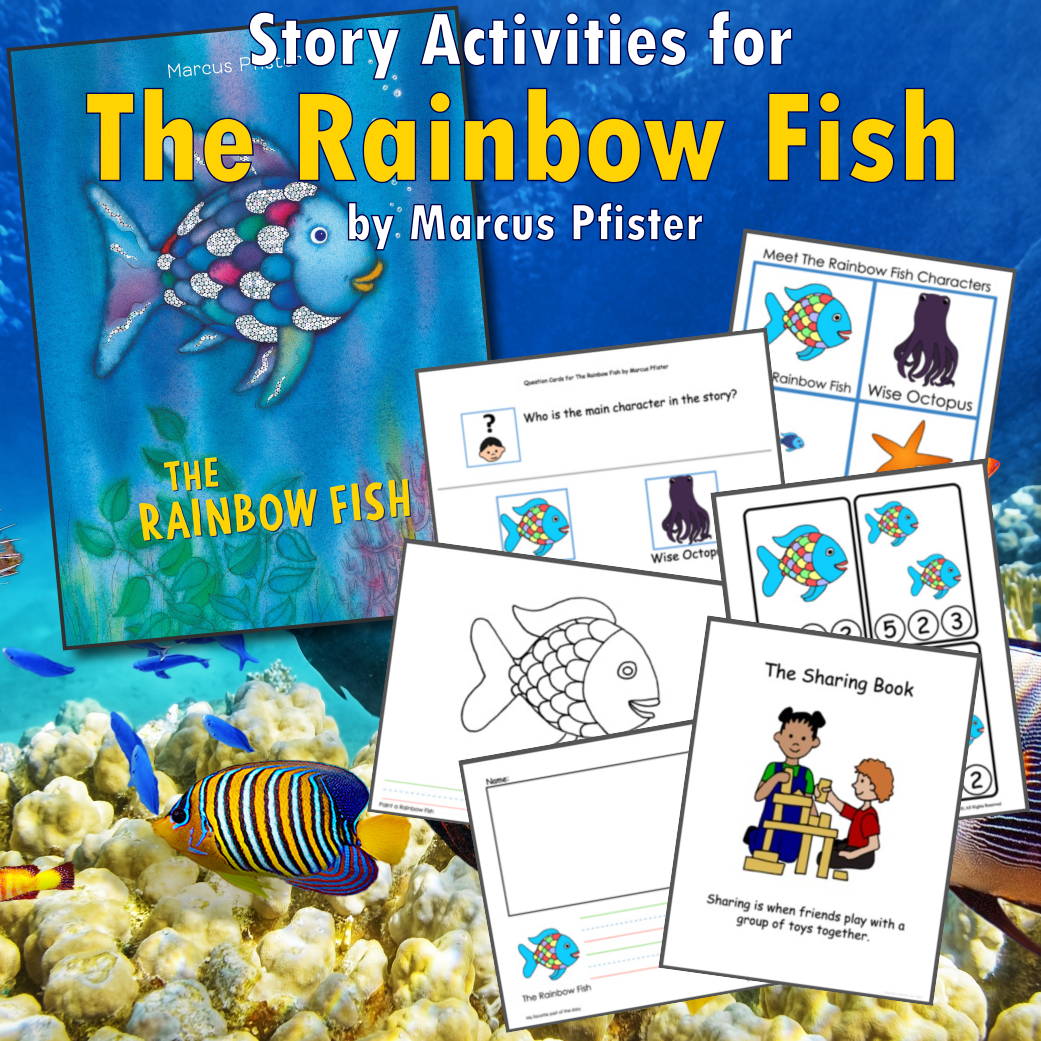 Ocean themed stories engage young readers into a world beyond their imagination. Check out just a few of these popular fun stories:
"I am not a fish" by Peter Raymundo

"Commotion in the Ocean" by Giles Andreae
"Shark Lady" by Jess Keating
Reading and Writing
Using ocean thematic unit provides an interesting and motivating topic for students. As they explore within this topic, they are also improving skills in decoding, comprehension, research, and writing.
As they review thematic vocabulary, they learn to read new words and match with corresponding pictures.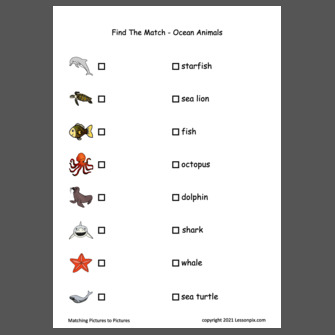 Write words or stories using an ocean theme.
Geography
Label the different ocean zones on an oceans map.
Comparatives
Inteaching comparatives, students can compare sizes of objects in relation to others. Start with tangible objects - this pencil is bigger than this paper clip.
Ocean animals are a great tool for teaching comparatives with referencings non-present objects. This requires drawing a frame of reference using pictures, videos, and prior knowledge. (A visit to the local aquarioum will also help put things in perspective!)
The story, "I'm the Biggest Thing in the Ocean" by Kevin Sherry compares a squid to other animals in the ocean.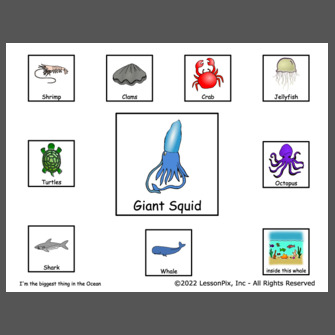 Compare attributes of different sea animals.
Look at different ocean mammals. How do they differ from fish? How are they the same?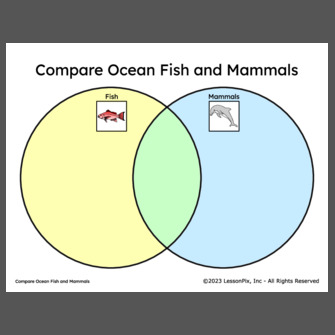 Sort and compare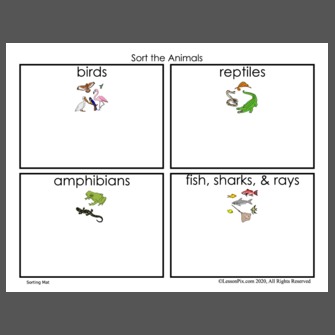 Or play a game of "Would you rather?" to foster discussions of ocean animal attributes and compare.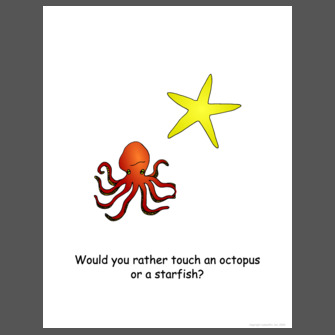 Math with Ocean Theme
Use ocean themed vocabulary inteaching other curriculum areas including math concepts.
Make patterns with ocean animals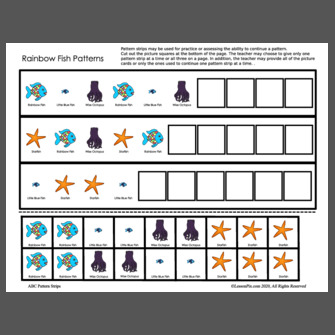 Articulation Practice Using Ocean Theme
Use a fun ocean theme during articulation therapy.
Ocean Themed Motor Practice
Use a fun ocean theme for fine motor practice.
You can open LessonPix materials (game boards, tracing, treasure map, etc) on an interactive whiteboard for crossing the midline and writing practice.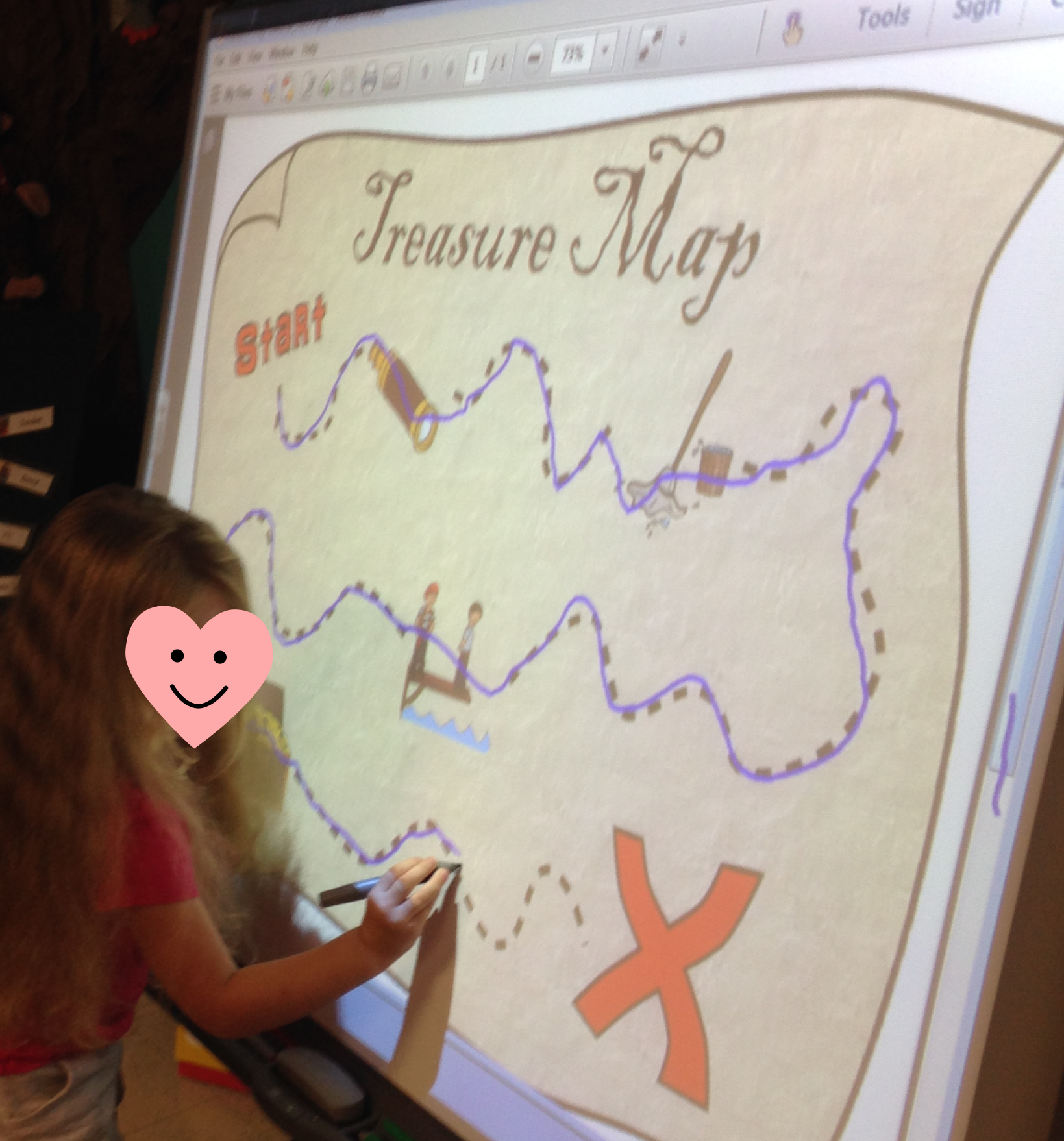 Theme Boxes
Build Themed Boxes for a Science Center. Fill the box with items related to the theme and display during the unit. Keep the unit accessible for revisiting even after moving on to future themes.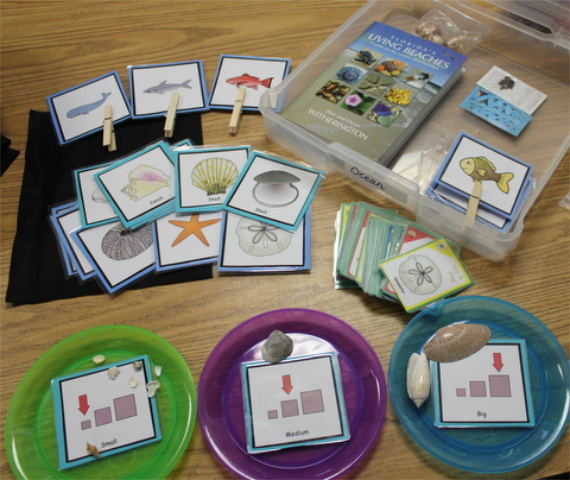 More Ideas to use with Ocean Theme
LessonPix Ocean Themed Templates
LessonPix has many ocean and fish themed tempaltes to create your own custom learning materials.