Treasure Map
Treasure Map can be used to create a map of a sequence to follow. This materials allows 2 to 8 pictures to sequence. You can choose a parchment paper style or plain background (to save ink).
The Treasure Map is a materials that can be used in many ways and for many different types of lessons. Here are a few examples:
Create a Map to follow to find a special treasure
Create a Map to follow a character's path within a story.
Follow the map of specific tasks to earn a reward.

Follow the map of Motor Exercise Stations to earn the reward
Complete a set of tasks boxes - highlighting the map between each task
Create a scavenger hunt for chidlren to find pieces toward the final treasure
Follow and say words to practice speech sounds
Use to create your own path or story.
This is a great activity for pirate themes and for National "Talk Like A Pirate Day" on September 19th. However, it can be used as a a fun activity for any unit (ie: welcome to school, community, science life cycles, holiday celebrations, etc.).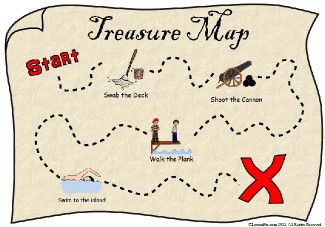 You can quickly and easily make a custom map for your lesson and therapy ideas. Less time creating... more time teaching!
Here is a Free Sample for Golidlocks and the Three Bears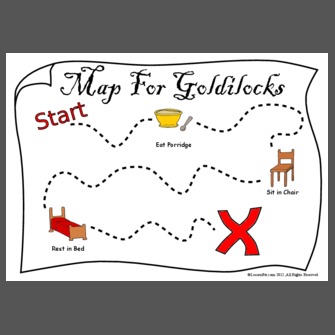 Have fun!