Door Hanger
Door hangers are signs that hang on a door knob to tell visitor what's happening inside. This template allows for 1 to 5 pictures per hanger. There are 2 signs per page and you can choose color background. They can be folded or glued together as front and back or hung separately.
The sign may display: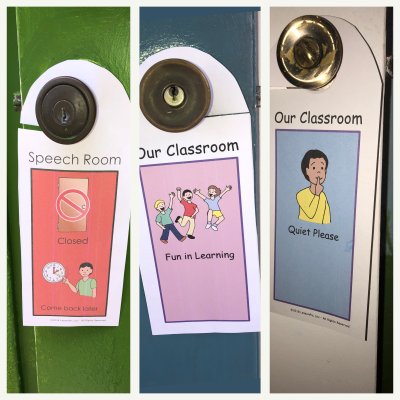 Welcome messages, "Come in!", "Join Us"
Rules to remember, "Walk", "Respect others using this room"
Expectations, "Quiet Please", "Please sign in", "Be ready to have fun"
Changes, "Gone Fishing", "Move to Media Center", "No Speech Today"
Status, "Testing", "Kids at work"
These sign may also be used as:
Carpool tags for car line to hang from rearview mirror
Hall Passes
Center Area signs
Clothes Hanger Labels
Or Giant Gift Tags! (Shrink to print for smaller)