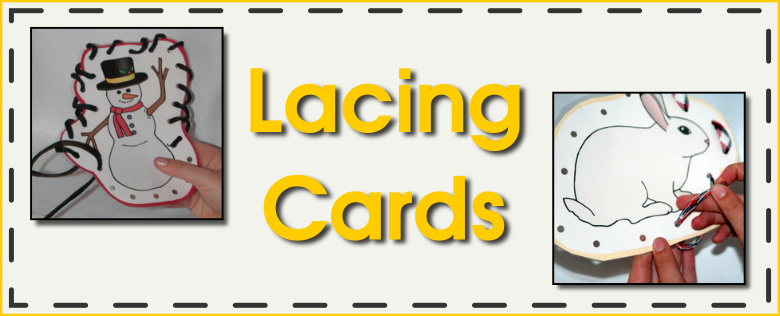 Lacing Cards
Lacing cards, or sewing cards, are a simple activity that develops both fine motor and visual perceptual skills. Lacing cards can be used as a morning table activity, in a center, for small group lessons, or within a task box. There are many manufactured sets of lacing cards that teachers, parents, and therapists can purchase. They are often sold in sets according to a theme, such as transportation or food and cost about $10 to $15 a set. LessonPix provides an easy way to create custom lacing cards at home or school.
Custom Lacing Cards:
Create Lacing Cards that reinforce classroom vocabulary
Select pictures for lacing cards that match favorite story characters such as: The Mitten, Brown Bear Brown Bear, or The Gingerbread Man.
Use pictures that target specific phonemes in the beginning, middle, or end of words. (Use the Soundfinder Search tool to locate pictures.) For example, if the Letter of the Week is "D", choose pictures that contain a /d/ sound: dog, candle, spider, and bed. As the students lace, ask if they hear the Letter of the Week in the word. You ask them to identify if they hear the /d/ sound at the beginning or end (or middle).
Develop Language with Lacing cards of pictures from a category or theme. Talk with the students about the type of lacing cards such as "Look at the different types of clothing!" or "Wow, there are many forms of transportation to choose from! Do you want to lace a car, a truck, or a plane?" You may have two bags of lacing cards and the children can choose a category or sort the cards while cleaning up. Encouraging categories for labeling develops schemas within their thought processes. Schemas are mental structures that help organize current knowledge and provide a framework for future understanding. These schemas allow for easier retrieval of information (like efficient file system), ability to store new information, and apply information to new situations.
Fine Motor Development:
Fine Motor Skills refer to eye-hand coordination and the development of small muscles in the hand. As the muscles develop, children are better able to manipulate objects, fasten clothing, and use tools such as pencils and scissors. These skills involve strength, control, and dexterity. Children and adults who have difficulty with fine motor skills may need to be referred to an occupational therapist. For more information on fine motor developmental milestones check out this great development chart.

Visual Perceptual Skills:
Visual Perceptual Skills is the ability that enables one to make sense out of what is seen. Activities that develop visual motor skills require the child to take in lots of visual information, organize it, and then complete the activity as intended. Some examples may be puzzles, lacing cards, "eye-spy" books, etc. Lacing Cards develop a child's ability to find the next hole (visual tracking), manipulate the string through the hole, turn the card over or feel the string come through the back, and then repeat the process from the back (spatial relationships).

It may take a young child some time to figure out how to"sew". At around three years of age, your child may only be able to push the yarn through the holes but not understand the concept of threading it in and out of the holes. Just let them play with the cards and keep showing them how to do it. Eventually they will catch on and they will enjoy spending hours lacing different pictures and patterns.
For more information: http://www.findtherighttoy.com/skill_perceptual.htm
Free Sample of 5 Little Monkeys Jumping on the Bed Lacing Cards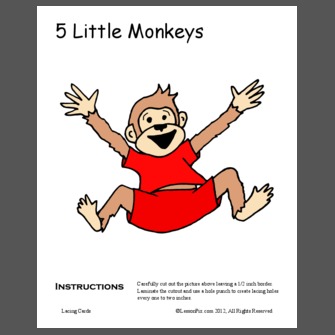 How to make:
Select the pictures into a collection that you want to make into lacing cards.
Click "Create Materials", select "Lacing Cards", and follow the simple steps in LessonPix Materials Wizard.
Print the pdf file of your custom selected pictures. (You may print on index paper to make it stiffer)
Cut out each picture leaving 1/4 inch of space around the picture. (You may mat on construction paper or index paper to make it stiffer).
Laminate.
Using a hole punch, punch holes around the perimeter of the picture.
Have students string or shoelaces to lace your lacing cards.