Story Activities for
Duck for Turkey Day
Written by Jacqueline Jules and Illustrated by Kathryn Mitter
The end of November in the US often means Thanksgiving, the time of the year where families and friends gather together to eat food and celebrate thankfulness. While discussions of holidays can be difficult for teachers, many cultures around the world have holidays for thankfulness or harvest celebrations. One way to discuss Thanksgiving that will be meaningful to your students, whether or not they eat a turkey dinner, is to share books that expand on some of the universal themes.
Duck for Turkey Day, by Jacqueline Jules, addresses cultural diversity from a little girl's point of view. Prior to Thanksgiving break, Tuyet's class spends the week singing turkey songs, making turkey crafts, and learning about the Pilgrims and the Indians. But when she prepares for her family traditions, Tuyet worries that her family doesn't know the rules of Thanksgiving and that everyone else will be having turkey. In the end, Tuyet learns that it isn't what you eat on Thanksgiving, but that you have a good time with family and friends.
Here are some activities to support this story:
Story Vocabulary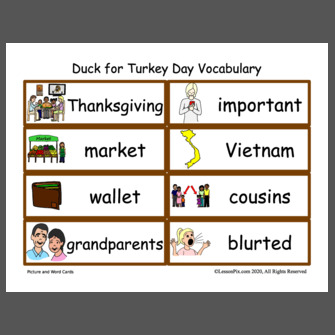 Comprehension Questions
Here are mulitple choice visual questions to ask as you read the story.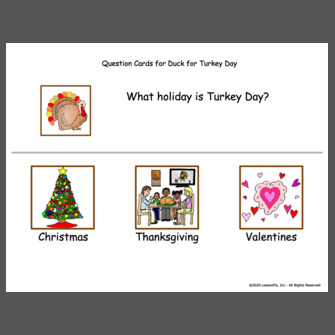 Writing
Students can tell about their family traditions and foods they eat.
Traditions
What foods does your family like to eat (on Thanksgiving)?
Art
Here is the directions for making a pine cone turkey like in the story.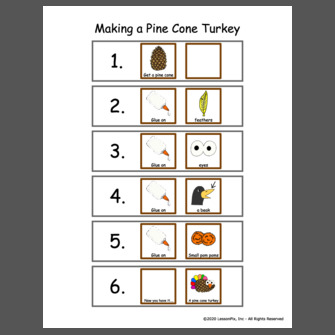 Social Skills
Talk about what Tuyet's family what grateful for. Student can make a Gratitude jar, where they can keep notes of things of that they are grateful. Here is a great story about the Gratitude Jar.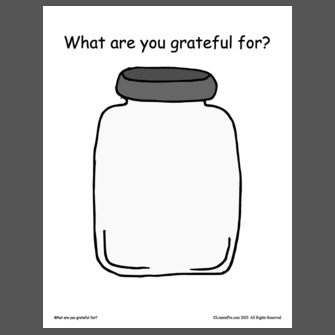 Here are more Thanksgiving activities