Story Visuals and Activites for
The Cat In The Hat by Dr. Seuss
The Cat In The Hat is a 1957 children's book written by Theodor Geisel, aka Dr. Seuss. The cat shows up one day to the home of Sally and her brother while their mother is out. Despite their pet fish protesting, the cat shows the children a few of his favorite tricks and trouble ensues! At first the children were entertained by the antics; but as the house gets out of control (mostly due to "Thing One" and "Thing Two"), the children want their home back in order. Thank goodness the cat produces a machine that tidies up just in time.
This story was created from a beginning reader word list and uses fun rhymes. Check out these activites to support learning objectives.
Story Vocabulary
Most of the words in this story are quite simple. There are a few that maybe less common such as "fear", "shame", "rake" and "tame". Use picture and word cards to hunt for these words in the story or use them on a word wall for reference.
Comprehension
As you read, stop to check for understanding. These question cards support young students or students with complex communication needs in comprehension.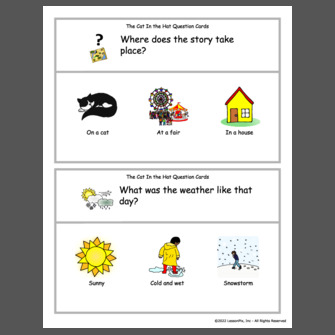 Story Sequence
What are the main story events? Cut out and sequence the story cards.
Design a storyboard with sequence of story events. Act out your story.
Rhyming
Dr. Seuss uses rhyme to make his stories more fun and playful. How many rhymes can you find?
Check out these rhyming activities.
Look at different word families. How are word families different than rhymes? Let's start with the AT family...
Check out more Word Families Activities here.
Spelling
Spell out different -at words.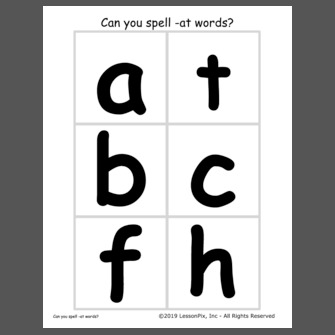 Cat in the Hat Math
The first trick the cat shows is called "Up, up, up with fish"- showing how he can balance items while standing on a ball. Can students balance items on their head? How many items is the cat balancing? How heavy are the items? Use a scaled to weigh similar items and sort from lightest to heaviest.
Create counting activities using vocabulary from the story.
Design
Design and build your own kite. Does it fly inside or outside?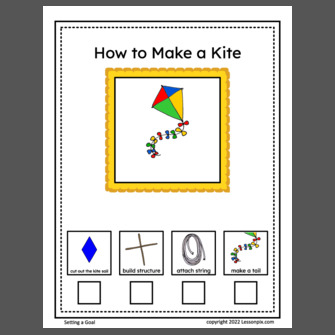 Design your own machine. Can you build it? Describe how it works and how it is made.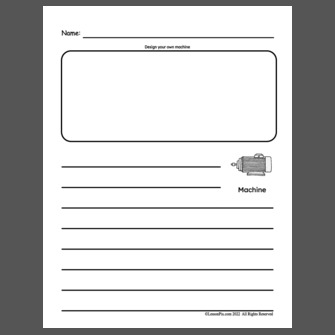 More Cat in the Hat Fun
Are you bored, just sit sit sitting on a cold, cold, wet day? Play a board game or design you own!
Here are some more activites that won't make such a mess!